Issued: 0530hrs Tuesday 17th July 2018
Duty forecaster: Simon Keeling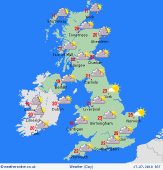 A fresher day, dry and sunny for most

Good morning,

The front that passed overhead yesterday brought some welcome rain for some, although left others high and dry! The front is now clearing eastern coasts and is going to be leaving most of the UK and Ireland with another dry day with plenty of sunny spells. There may be a few scattered showers developing this afternoon, mostly on hills in the west and north, but generally it stays dry. Feeling fresher in central and eastern England than it has over the last few days.
Mostly dry again tonight with clear spells except for a few showers on western hills.
Simon
Email me at simon.keeling@weatheronline.co.uk