Issued: 0530hrs Wednesday 21st March 2018
Duty forecaster: Simon Keeling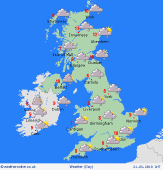 Rain and wind in the north, drier south but cloudier after a sunny start

Good morning,

Sunny and fair to start the morning across much of England and Wales although there will be a touch of frost. Thicker cloud already into Scotland is bringing rain to the west. This rain also affecting the northwest of Ireland and spreading through Northern Ireland in the next few hours. The rain turning heavy in western Scotland too with the winds increasing to a strong westerly.
It then becomes damp this afternoon over much of Scotland, although the heavier rain in the west should fade. Cloud and some outbreaks of rain and drizzle in northern England and the hills of north Wales. A few spots of drizzle in the Midlands by evening too, much of England and the rest of Wales having become cloudier and breezier.
Some drizzle on western coasts and hills of Wales, northwest England and Scotland today. Showery rain in parts of East Anglia and the southeast but drier elsewhere although cloudy.
Simon
Email me at simon.keeling@weatheronline.co.uk