Issued: 0900 Tuesday 17th July 2018
Duty forecaster: David Hulse
More changeable in the north. Drier and warm in the south

Northern and western parts will see more changeable weather with the prospect of some rain a7 times. The south and southeast, however, will be drier with only isolated showers and temperatures rising again.
For the weather for the next few days click here


Friday 20/7/18
Low pressure to the north of Scotland on Friday with fronts edging south and weakening gradully. This brings cloud and outbreaks of rain through Scotland, and into Northern Ireland and Northern England, the rain turning lighter and patchy as it moves south. Souther England and South Wales are likely to be mostly dry with some sunshine. Highs at 25C in Southeast England, 14C in Northern Scotland.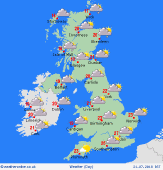 Saturday 21/7/18
The remains of the front and cloudier skies with, perhaps, a little rain across the far south of England at first on Saturday, otherwise mostly dry and brighter weather with sunny spells. Showers are likely to return to the North of Scotland, though. Highs around 24C in Southeast England, 14C in northern Scotland.


Sunday 22/7/18
A ridge of high pressure is expected to affect much of the UK and Ireland on Sunday. This brings dry conditions with some sunshine for many. Thicker cloud in the north, though, especially Northwest Scotland where rain may be persistent and heavy for a time. Highs at 15 to 27C.


Monday 23/7/18
High pressure persists in the south on Monday with dry weather and variable cloud cover for England Wales. Thicker cloud will affect Northwest Scotland and Northern Ireland where there may be some rain at times. Highs at 16 to 28C.

Tuesday 24/7/18
A weakening weather front may bring a little rain to Northern England for a time, but much of the UK will be dry with only isolated showers and some sunshine. Highs at 16 to 27C.

Wednesday 25/7/18
Some sunshine and a good deal of dry weather but also a risk that localized showers will develop. Highs at 18 to 27C